This class originally debuted in 2009.  Registration is currently open (after being closed for a year) at a greatly reduced price.  Think of it as a public service.  Back by popular demand!  Or something like that.  This perennial favorite has remained crazy popular over the years.  Since I closed it last year, I've received countless emails asking about it.
$25.00/1 yr of access
It's still worth it.  Even after all these years.
DESCRIPTION:
This 2009 class is the antidote for all of those paper scraps that keep multiplying in your favorite scrap box and clogging up your artistic super highway!   Seen above are 2 lovely journals made by class members.
In this process AND project oriented class we'll be constructing a shabby yet sturdy journal using all that paper you've been hoarding.  In addition to excellent travel journals & memory books, Remains of the Day journals also make excellent mini-scrapbooks, funky day planners, writing journals, collage journals, garden journal, or inspiration books.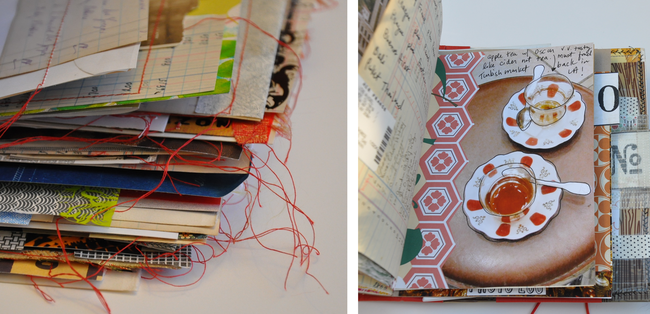 Using simple art supplies like tape, staples, glue sticks, scissors, paper & fabric scraps, and your favorite inky pen we'll set out on a recycled voyage of discovery.   ORDINARY life never looked better than seen through the pages of this stitched up journal of scraps.  Between these pages you'll be recording the little days that are all too easily forgotten.  The small activities between the bigger events of your life that get left behind.
Once your shabby journal is constructed I'll show you how to start filling it up.  In fact, you'll watch me fill mine up!
DETAILS:
You may begin whenever you want and revisit the videos and class blog for 1yr
 27 videos available from the day you register
 32 pages of full-color PDF also available for immediate download
at least 5 pages of digital collage elements for download (labels, tabs, numbers, words, journaling spots)
sewing machine is required
SUPPLY LIST = scraps of paper, security envelopes, fabric, sewing machine, quilting thread, 1 yard of waxed linen, regular or bookbinding needle, scotch tape, packing tape, your choice of dry adhesive (I'm using a glue stick),  any kind of camera
Think of this class as an independent study.  I no longer offer support or answer questions (I can't remember the answers!)
 PLEASE NOTE:  This is not a sewing course, but a sewing machine is required.  I am not a seamstress.  I use guerrilla sewing tactics and so can you!
If you don't have a machine, I use the Brother XL-2600i.   It's inexpensive – under $100, VERY sturdy, and sews through anything.  However, I suggest you use whatever machine you have instead of purchasing a new one.